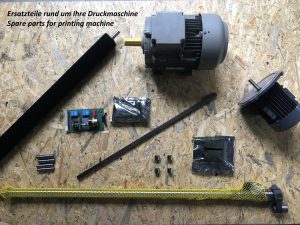 With experience and well-founded specialist knowledge we are active in the graphic arts industry in the printing press trade and spare parts trade with new and overhauled spare parts for your offset printing press manroland, KBA, Heidelberg.
We have established ourselves nationally and internationally as a reliable partner for printing companies.
The success of our company is based on the principles of fair and serious trade.
Benefit from our spare parts for your sheet-fed offset printing press (manroland: R200, R300, R500, R700, R900; KBA: RA 74, RA75, RA 105, RA 106, RA 142, RA 145, RA 164) from the well-known manufacturer manroland, KBA.
In our spare parts shop for your printing press, you can easily and conveniently select your spare parts.
In our spare parts shop we have, among other things, circuit boards, sensors, grippers, gripper shafts, brakes, rollers, ductors, converters and many other spare parts.
We do not have the spare part you are looking for?
Then contact us directly at info@wmh.com.de and we will do everything in our power to supply you with the spare part you need.
You have sold your old offset printing machine and still have spare parts for this printing machine in stock?
We buy your spare parts!
Please send us an email or enter it easily and conveniently on our page under Spare Parts -> Purchase.